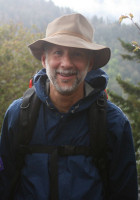 My Goal:
Run 60 miles on my 60th birthday and raise $60,000
Why am I doing this?
"Midway on life's journey I found myself in a dark wood." So begins Dante's The Divine Comedy. From the Hebrew Exodus to Homer's Odyssey and beyond, the metaphor of life as a journey is universal. Like Pilgrim in Pilgrim's Progress, my life has taken me through many strange and wonderful places, all leading to the Celestial City. I'm grateful. My journey's been good.
On February 10th, 2008, I turn 60. Well past midway on my life's journey, I hope to welcome each new birthday with joyful heart and springing step. Nothing lasts forever in this world, not even me, certainly not my aging knees and heart, despite all my baby-boomer wishful thinking. On this milestone occasion, since I'm a runner, I want to run. Because I can. Because it makes me feel alive and free and grateful. So on this birthday why not share my running? It's an integral part of my journey, and it's how I want to celebrate.
With whom am I sharing it?
First, my family: wife Mary, sons Chris and Wells, and grandsons Jonathan and Benjamin. I hope some or all can be there that day, but if not (and all but Mary live far away), I know they are with me in spirit.
Second, my friends, many of whom I hope will come by and cheer during my pain, gloat over my craziness, or just support me by showing up. Friends can also support by sending a letter or email even if they can't join the run. And I hope all my friends will donate to one of my three chosen charities for this occasion.
Third, anyone who can appreciate that staying active is one of the keys to successful aging.
I hope to raise $60,000 for charity. If you join me in running or walking, I'll have a box for you to drop a check or cash into. If you can pledge or contribute in advance, email me, call me, tell me or otherwise let me know. Or send me a check.
Visitors since January 18th, 2008 -