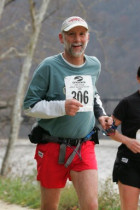 Why Do I Run?
Birds gotta fly, fish gotta swim, and I gotta run. As in the movie Chariots of Fire, "When I run, I feel God's pleasure." I just enjoy it. God made me thin, which was awkward as a teen, but at my age, it's an asset. I discovered I could run not only as far as a marathon, but further, and not just endure it, but enjoy it. Hence I began running ultra-marathons.
So far I've run the JFK 50-mile race in Maryland (twice), the Mt. Si 50-mile race in Seattle, and the Mt. Cheaha 50-km race in Alabama, the Haw Ridge 55-km race in Oak Ridge, and the Stump Jump 50-km race in Chattanooga. There have also been an assortment of marathons and shorter trail races, such as the Big South Fork 17.5-mile trail race (five times).
One amazing day a few years ago I ran rim-to-rim at the Grand Canyon in one day with my two sons and brother-in-law, a total of 23 miles with enormous elevation drop and then gain.
One really big goal remains. I have qualified to run the Western States 100, the ultimate endurance event, this coming June 28, 2008. Over one hundred miles in the remote Sierra Nevada wilderness, I'll encounter snow in the mountains and sweltering heat in the canyons; run with headlights through the night; and climb a cumulative 18,000 feet vertically with 23,000 feet of descent. Can I do it? Who knows? So many things can go wrong twixt planning and finishing. But I'm giving it my best effort. That's what life is about.
Grand Canyon Rim-to-Rim Run